BLAIRSVILLE CRUISERS OFFER UNIQUE SCHOLARSHIP PROGRAM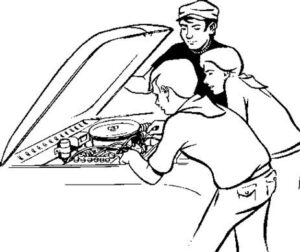 The Blairsville Cruisers Car Club, a 501c3 non-profit corporation, has many programs that support local children. The club is expanding efforts to help local students who are passionate about a career in automotive technical fields.  Other scholarships stress traditional college education, but few are available to students who prefer technical or trade school certifications.  The automotive field is in need of qualified auto mechanic, body shop, welding and other automotive related trades and careers. The club wants to help qualified students fulfil their educational goals to be certified in these career choices.
Since 2007 The Blairsville Cruisers Car Club has been dedicated to helping the community in many ways.  Our Christmas programs for children in need, local food bank support, Veterans programs, and other charitable programs will be enhanced by offering this scholarship program. 
We appreciate our sponsors, donors and the public who make it possible for us to give back to the communities where our club members reside.  Individuals or companies interested in supporting the club by becoming a sponsor, donor or by suppling additional funds for scholarships please email blairsvillecruisers@gmail.com for details.
The club will offer three $500 scholarships annually – they are the Tom Bruce Memorial Scholarship, Allora Couture Memorial Scholarship, and Pete Barley Memorial Scholarship.  Interested students in North Georgia and Western North Carolina may apply.
For details on requirements for scholarships

CLICK HERE
For a printable application 
CLICK HERE
You may email a request for information and an application to:  
blairsvillecruisers@gmail.com